CO2 Absorbers for Storage Tank Vents
VONEN is world's biggest provider of Low-Pressure-Drop CO2 Scrubbers and CO2 Absorbers for demineralized water tank and other storage tank vents.
Over 300 units of VONEN CO2 Scrubbers are installed at power stations and water treatment plants in Europe, the Middle East, Africa and the American continent.
The absorber filters are equipped with Replacement CO2 Filter cells and particulate filters. To facilitate the maintenance of the absorber filters, the units can be connected to the Distributed Control System (DCS) of your plant.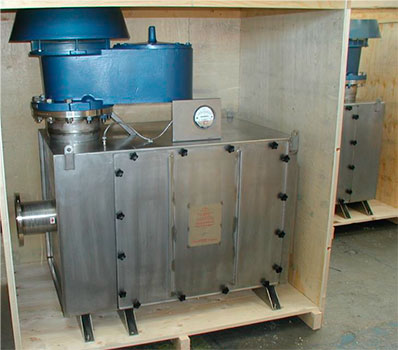 We can also offer you autonomous CO2 Scrubbers, which regenerate the Carbon Dioxide Absorbent after each absorption cycle. The Absorber is equipped with two identical filtration units. While one unit is filtering, the other is regenerating and vice versa. The filter allows years of maintenance-free operation. The technology is the same as described in VONEN CO2 Air Purifiers for Offices and Call Centers.
Do you need better tank protection to maintain high quality of process water?
For a quotation or more information, please contact us!